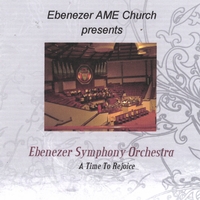 The Ebenezer Symphony Orchestra CD was created in 2006 to raise funds for the orchestra ministry. In other words, if you donate $15, you will get a CD. If you donate $150, you get 10 CD's. We use the funds to support other musicians for concerts and we support the church as well.
The Orchestra was founded in June of 1999 by Rev. Dr. Grainger Browning, Jr. and Rev. Dr. Jo Ann Browning and Senior Minister of Music Byron Cage. This is a rare CD in that it was for the seventh anniversary of the ministry being together. All ministries need a source of income, so the concept to put out the CD came to pass, and now it is on    CD Baby waiting to be downloaded and enjoyed. This is a very good CD. Go buy it .
To learn more about this group, click here. There is also a Yahoo! site  that you can go to for more. Just click on the links on this page. Once again donate and support this ministry. You will be helping a very good cause. Thanks in advance for seeing the dream and supporting the vision.
Chuck Carthan, Director